Voice Of The Kids Announces Our Panel Talk on HUMAN TRAFFICKING
Thursday, February 6, 2020, 6:30 PM at Haverstraw King Daughter's Library 
10 West Ramapo Road, Garnerville, NY 10923
January is Human Trafficking Awareness Month!
The Library sent out the announcement of this talk to over 25,000 people in Haverstraw, NY!
Voice of the Kids, a New York based 501(c) Non-Profit organization seeking to "Provide a Voice for Children Not Being Heard." I am a champion of Voice of the Kids and they have asked me to be on their panel and to speak on Human Trafficking, February 6, 2020, 6:30 PM at the Haverstraw King Daughter's Library.
Voice Of The Kids is proud to announce our confirm panel speakers, although we are still seeking others:
Dr. Surajit Khanna, a champion of our organization. Dr. Khanna was the former Deputy Commissioner in New York City during the 911 attacks. Click here to read his post on his upcoming talk.
Ron Minsky (Former NJ Deputy Attorney General in Charge of the Sex Crime Unit),
Rosemarie D'Alessandro, founder of Joan's Joy. Rosemarie's 7-year old daughter, Joan, was sexually assaulted and murdered. The Joan's Joy Foundation is in memory of her daughter and advocates for laws to keep murders of minors who sexual assault them to never be available for parole.
Others that are not yet confirmed, stay tuned.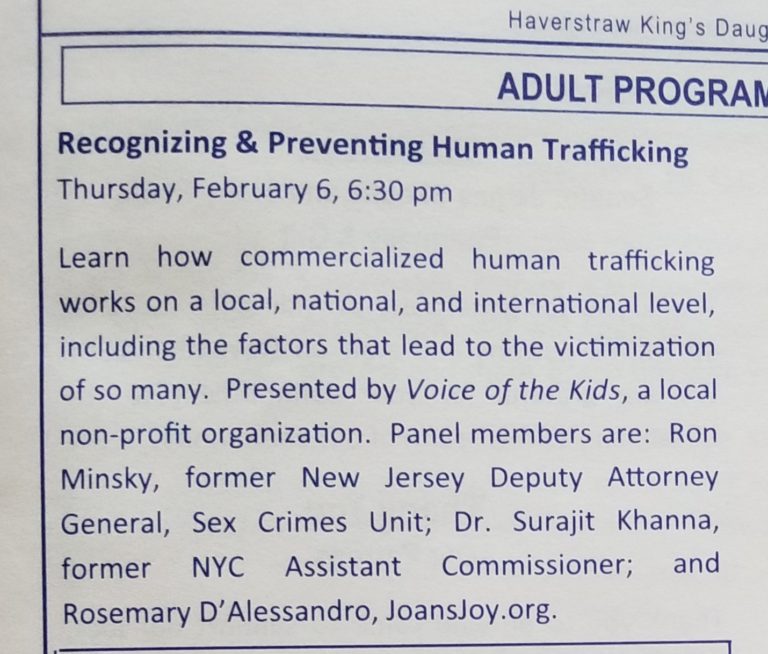 This is the detail of the Haverstraw King's Daughter Library Newsletter that went out to over 25,000 people. Click here to view the entire online Newsletter.